Published on January 2nd, 2008 4:56 am EST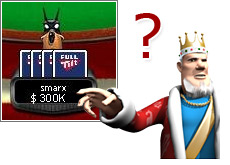 Every so often, a player by the name of "smarx" on Full Tilt Poker pops up and seemingly cleans house.
He has done this again today on Full Tilt Poker during a marathon 24 hour+ session, in which he has amassed some huge stacks playing high stakes Pot Limit Omaha. From the couple of times that I have watched him play, I have seen him sitting on a $300k stack and a $230k+ stack in the $200/$400 PLO games. He was involved in one particularly big pot with David Benyamine on New Year's Day which saw the two players get all in on a board of:
6c 3d 9c Ts
Benyamine held 8h 7s 5s 3h for the straight on the turn
"smarx" held Td 3c 8c 5d for two pair plus a flush draw and a gutshot straight draw.
The river was the Jack of Clubs, and "smarx" took down the huge $207k pot with a flush.
So who is "smarx"?
"smarx" is Steve Marx, a Microsoft employee who, according to his website (www.smarx.com), is a "Technical Evangelist for ASP.NET AJAX.
Steven Marx has one live tournament cash to his credit, a $274k cash at the 2005 World Series of Poker Main Event when he finished in 35th place.
"smarx" will seemingly take on anyone, as he has had some interesting (and profitable) clashes with the likes of Phil Ivey and David Benyamine at the high limit tables on Full Tilt Poker. Hopefully we see more of "smarx" on FTP in the future.
--
Filed Under:
Players In The News