Published on April 8, 2003, 12:45 pm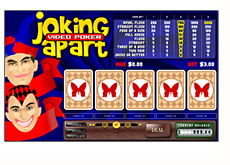 Poker has been around since the 1830's, and video poker machines have been around since the 1970's. But when did online video poker get its start?
Online casinos started appearing in the mid 1990's, when the Internet really started to take off. Online casinos just made sense .. it allowed people to gamble at any time of the day from the comfort of their own homes.
As connection speeds and designing know-how progressed, so did the software packages that online casinos were able to put out. Back in the mid 1990's, the graphics were sometimes laughable; now it is like you are actually sitting in a Las Vegas casino, pressing the buttons and sipping on the free drinks.
As using a credit card online became more secure, the growth of online casinos expanded even more. At this point, many online casinos started spending much more money on customer service, hiring people to answer questions and provide answers to technical questions 24/7. Retention of the customer became priority #1, and maybe casinos started to employ lucrative bonus programs, in order to persuade the customer to stay at their casino.
There have been a couple of bills that were introduced to Congress that would have made online gambling illegal, but they never made it through to the Senate, and they probably never will. Playing video poker online will continue to flourish in the future, and the customer will continue to benefit in improved customer service and higher payouts.
--
Filed Under:
Miscellaneous King Articles