Published on August 1st, 2008 11:58 pm EST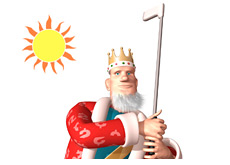 This is an incredibly slow time for poker-related news. The World Series of Poker main event has been paused for a few months, and many top players are choosing to stay far away from the poker tables so that they can recuperate from a long 2008 World Series of Poker. When the biggest poker news story is some 54 year old guy getting thrown out of the Borgata cause he smells bad, then you know that you are in trouble.
There is nothing that really justifies a full article, so I am going to throw in some various news, links and comments in this article, just to give you a bit of reading material for the weekend. I'll try and come up with something better this weekend, I promise.
--
The World Poker Tour
will be announcing their Q2 earnings
on August 6th. The actual quarterly report itself will be quite boring (expect more losses), however the conference call might give us a few nuggets of interesting information, including details about the company's recently signed agreement with FSN.
--
Mohegan Sun officials
blamed their weak Q3 income
on the "extraordinary" luck of their customers.
--
Vicente Perez
was sentenced to five years in jail
on Friday. You may remember that Perez stabbed fellow poker player Arthur Prince to death after a heated exchange at the Trump Taj Mahal a few months ago. According to Perez's attorney, Prince grabbed a metal walking cane and started beating Perez with it after the two stepped out of the casino and into the valet parking area. Perez pulled out a pocket knife and stabbed Prince in the left cheek, causing him to bleed to death after his carotid artery was severed. Apparently the altercation started when Prince was playing in a $1/$2 game. He busted, and apparently announced that he was going to the ATM machine to get more cash. The dealer didn't hear him say this (although other players at the table claimed to have heard it), and Perez soon took a spot in the game. Prince returns and gets into an argument with Perez. Perez doesn't relinquish his spot, and leaves for the valet parking area after 10 minutes (for some unknown reason). Prince follows him outside, and is dead a few minutes later.
--
Gus Hansen and "LoliNa"
ended up the big winners
on Full Tilt Poker in July. The biggest losers on the month include: David Benyamine, "ICallSoWhat" and Patrik Antonius
--
Nikolay Evdakov
signed a sponsorship deal
with Full Tilt Poker. Sure, his 10 cashes were extremely impressive, and a new World Series of Poker record. What might be even more impressive is that of the 10 cashes, Evdakov's best finish was 12th place in the $10k Pot Limit Hold'em Championship event. 10 cashes and not even a final table?
--
Di and Hac Dang, otherwise known as "Urindanger" and "trex313", were interviewed by Cardplayer TV. It's a great interview, and you can
watch it here
.
--
Pokerstars
is increasing the guarantees
for "most" of its guaranteed tournaments. The Sunday Million will now be the Sunday $1.5 Million. $750k will be guaranteed for the Sunday Warm-up, instead of $500k. The Super Tuesday will now have a guarantee of $300k. The list goes on and on. This was an inevitable move, given the rate of growth at Pokerstars over the past couple of years.
--
FTOPS IX on Full Tilt Poker is starting in just a couple of days. Following that, the 2008 WCOOP at Pokerstars, which begins on September 5th.
--
That's about it for tonight, hope that everyone has a great weekend. We'll be putting up a new article on Sunday evening.
--
Filed Under:
Miscellaneous King Articles