Published on August 4th, 2008 6:59 pm EST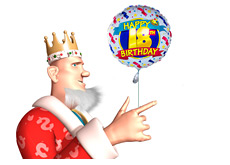 In 2007, "Andy McLeod" on Pokerstars (aka "TheFatFISH" on Full Tilt Poker) was steadily moving up the rankings of the top online poker players. He was an extremely tough player from Australia who seemed to have limitless potential. He was also very young - too young.
"Andy McLeod" enjoyed a great deal of success in 2007. He took down the Sunday Mulligan in August of 2007 for almost $42k. He took down a $109 Rebuy event on Pokerstars in September of 2007 for $34k. He made the final table of the big $215 Rebuy event on Pokerstars on two consecutive Sundays, cashing for a total of over $40k. He had back to back wins in the Full Tilt Monday $1k for $52,260 and $46,170 (Jan 16th and Jan 23rd 2007). He took down event #9 of the fourth FTOPS for $75k. The list goes on and on.
And then, just like that - he was gone.
"Andy McLeod" had been busted for being underage, and was temporarily banned from many of the major online poker sites.
Many of the top young players that dominate today got their starts online while playing underage, but for some reason, "Andy McLeod" was busted. His rapid move up the online poker rankings would be put on hold until he turned 18.
Well apparently "Andy McLeod" just recently turned 18 in early August. How did he celebrate? By making a deep run in the Sunday "1.5" Million on Pokerstars. Not only did "Andy McLeod" navigate through thousands of players to make the final table, but he ended up taking fourth place for $76k. "McLeod" served notice to the online poker world that he is back, and gave himself a $76k birthday present at the same time.
Now that "Andy McLeod" is of age, I would expect him to resume his rapid climb up the online poker rankings.
--
Filed Under:
Players In The News