Will Anyone Accept the Million Dollar "durrrr" Challenge?
Published on January 3rd, 2009 12:19 am EST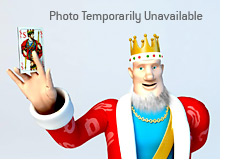 Earlier today, Bluff Magazine (link below) released an article titled "Tom Dwan Issues the Million Dollar Challenge".
The article included this statement from Dwan:
"I'm making this heads-up challenge to the world. Anyone can accept. Four tables, minimum of $200/$400, and I'll put up $1.5 million to their $500,000. We play 50,000 hands minimum and if they end up a dollar after rake they keep the side money or whatever. So basically, if you and I played and you won a dollar, you would get my $1.5 million and if I won a dollar I would win your $500,000.
"So I'm giving a million dollars free if anyone thinks they can do it."
Dwan
later made a post on 2+2 in which he clarified the proposed terms of the challenge:
"1) 200-400min (nl/plo obv)
2) can change tables anytime eff stacks are >250bb
3) have to reload when stacks are <75bb
4) $$ won in the challenge is kept obv (if i win 750k in poker, i get that PLUS your 500k- if i lose 750k in poker you get 2.25m total).
5) same stakes the whole time
6) not open to phil galfond"
It will be interesting to see who responds to this challenge.
I can't see a player like
Phil Ivey
or Patrik Antonius turning an offer like this down.
Phil "OMGClayAiken" Galfond is excluded from the competition, as per Dwan's post on 2+2.
After Ivey and Antonius, you start to run out of potential candidates.
Either of the Dang brothers? Ilari "Ziigmund" Sahamies? David Benyamine?
It will be interesting to see who, if anyone, takes Dwan up on this offer.
Source: Bluff Magazine -
Tom Dwan Issues the Million Dollar Challenge
--
Filed Under:
Players In The News