Are Electronic Poker Tables About to Go the Way of the Dinosaur?
Published on June 26th, 2009 6:39 am EST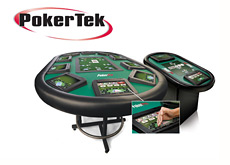 Pokertek Inc. announced earlier this week that it would be pulling all 12 of its "PokerPro" tables from The Excalibur Hotel and Casino.
The reason? MGM Mirage, which owns the Excalibur, said that its players preferred live dealers over "automatic tables".
This was a field trial, and MGM Mirage had the option to extend the agreement if they chose.
They declined the option, and the electronic tables will be removed from the Excalibur effective July 5th.
This is obviously horrible news for Pokertek and electronic poker tables in general, no matter how the company tries to spin it.
I can't see any major casino properties in Nevada ever giving electronic poker tables another chance after this failed experiment.
This is obviously crucial when it comes to the long-term viability of both Pokertek as a company and electronic poker tables in general.
The company only has 266 tables "sold or leased worldwide". Revenues decreased 33% from this time last year, and the company is losing money each quarter.
Pokertek is currently trading at 75 cents per share, down substantially from its 52 week high of $5.39. The entire company is valued at just $8.27 million dollars.
In short - the company is not in good shape.
I know that some people swear by electronic poker tables, but I've never seen the allure, and I'm obviously not alone.
When I make a trip to the casino, I want to play with real chips and real cards. It's all part of the experience.
I might get dealt more hands at an electronic poker table, but that's not really the point. I'd just stay at home and play online at Pokerstars if that was my major concern.
Electronic poker tables seem like a smart idea on the surface, but I just don't think that the concept is viable over the long-term. Fly to Vegas to play on an electronic poker table? I don't think so.
A company like MGM Mirage would have loved nothing more than for the electronic poker tables to take off in popularity. Lower labor costs (no dealers) would have meant more profits for the company.
If they are saying "no thanks", then the future does not look too bright for the electronic poker table.
--
Filed Under:
Miscellaneous King Articles