Phil Ivey's World Series of Poker Run Was The Poker Story of the Year
Published on December 31st, 2009 12:05 pm EST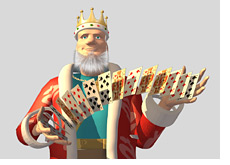 There were some big stories in the poker world in 2009, including:
"Isildur1" seemingly coming out of nowhere to set the high stakes games ablaze on Full Tilt Poker.
Joe Cada becoming the youngest ever player to win the World Series of Poker main event.
The UIGEA compliance deadline being delayed six months.
Party Poker purchasing the World Poker Tour after a bidding war with several other companies.
These stories were all interesting or notable or important to the game of poker.
However, when it comes to the biggest story of 2009, there is only one that stands above all of the others - Phil Ivey's run at the World Series of Poker. More specifically, his final table appearance in the main event.
Phil Ivey won 2 World Series of Poker bracelets in 2009 (in the $2,500 2-7 Lowball and $2,500 Omaha/Seven Card Stud Hi/Lo events), and then went on to finish seventh in the main event.
Was this really the biggest poker story of 2009? Let's run down the checklist:
1. Mainstream media coverage - check.
2. Massive spike in search engine activity - check.
3. International interest - check.
4. Overwhelming interest from every category of poker player - check.
5. Massive spike in activity on our sites - check.
Phil Ivey's run sparked interest from Australia to Russia to the United States and all points in between.
Phil Ivey's run captivated the attention of everyone from low level grinders to high stakes professionals. Who in the poker world wasn't talking about Phil Ivey between July and November?
Phil Ivey's World Series of Poker run was absolutely the biggest poker story of 2009, and nothing else even came close.
--
Filed Under:
Miscellaneous King Articles