Who is Howisitfeellike?
Player:
HowisitfeellikeReal Name:
Rafi Amit
Also Plays Under:
Rafi Amit spends most of his time online under his "howisitfeellike" moniker on Full Tilt Poker. Amit plays in the biggest games in the world, so it's not surprising that he would spend most of his time on the site that has the biggest games (Full Tilt Poker).
Online Notes:
Rafi "howisitfeellike" Amit is an extremely tough and skilled poker player, and the results shine through online.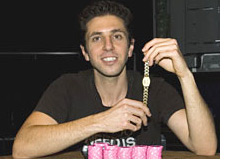 Since the beginning of 2009, "howisitfeellike" is up approximately $600k on Full Tilt Poker. Amit doesn't play online very often, and has only logged an estimated 11,239 hands on FTP since the beginning of the year. This means that Amit has won an impressive $53 for every hand that he has played on Full Tilt so far in 2009.
In 2008, Amit was one of the biggest winners on Full Tilt Poker, netting himself an impressive $2.67 million dollars over a total of just 46,387 hands. This performance meant that Amit was the seventh most profitable player on the site in 2008.
Live Notes:
Amit has already managed to win two World Series of Poker bracelets during his career.
He won his first bracelet in the stacked $10k PLO event at the 2005 World Series of Poker, taking home over $500k in the process.
Two years later, Amit managed to win his second bracelet when he took down the $1k Deuce to Seven Triple Draw w/ Rebuys event for $227k.
Rafi also managed to finish fourth in the 2006 WSOP $10k PLO event for just over $143k.
In total, Amit has over $940k in total lifetime tournament cashes.
Rafi "howisitfeellike" Amit is a regular in some of the biggest cash games in Las Vegas, and is often seen playing in "Bobby's Room" at the Bellagio.
Other Notes and Info:
Amit is a well-liked player due to his charismatic personality.
Originally from Holon, Israel.
Like many other professional poker players, Amit's family was originally against his foray into the world of professional poker, but they have since come around as a result of his success.
Recently got into an online confrontation with Di "Urindanger" Dang on Full Tilt Poker, with Dang challenging Amit to play him in heads-up PLO at the Bellagio.
Recent Articles That Mention
Howisitfeellike
:
July High Stakes Update: "NEKOTYAN", "riyyc225" On Top
High Stakes Update: Dwan Gives Some Back, Antonius Surges
Di "Urindanger" Dang Up Over $440k in January
Patrik Antonius Finishes 2009 Up Nearly $9 Million Dollars on Full Tilt Poker
Hac Dang, Tom Dwan Leading The Way In February Cash Games on Full Tilt Poker
View all Online Poker Profiles