Who is theASHMAN103?
Player:
theASHMAN103Real Name:
Ashton Griffin
Also Plays Under:
Ashton "theASHMAN103" Griffin spends most of his time playing on Full Tilt Poker. Occasionally he is seen on Pokerstars, where he also plays using the "theASHMAN103" alias. I am not aware of any other accounts that Griffin currently plays under.
Online Notes:
Griffin is the classic "rags to riches" online poker success story.
In August of 2007, Griffin busted almost all of his $10,000 poker bankroll. He was left with just $700 in cash, and an additional $84 in rakeback that was due to him the following month.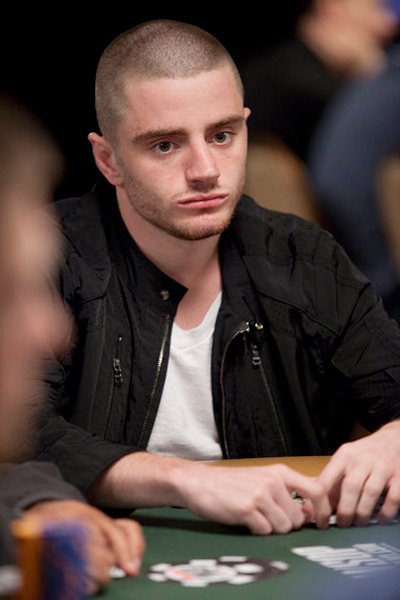 At the time, Griffin decided to take a break from poker, choosing instead to visit North Carolina for a month. Griffin stayed with his best friend, and the two of them spent the month mowing lawns for some extra cash. According to his blog, Griffin returned home from North Carolina with just $200 to his name.
Griffin decided to try his hand in live poker, and had soon run his $200 up to $8k, thanks in large part of a $4,700 score in a local tournament.
School was on the horizon, and Griffin had zero motivation to return. He decided not to return to school, instead choosing to focus on building his bankroll.
Over the next few months, Griffin's bankroll fluctuated greatly. By the end of 2007, his bankroll stood at $23,000 - a very reasonable amount, but down considerably from the highs seen a few months prior.
The first few months of 2008 were very good to Griffin, and he soon possessed a bankroll that was in excess of $100k.
By May of 2008, Griffin's bankroll was over $200,000, and he was regularly playing against some of the best online poker players in the world.
The run continued, and by August of 2008 (just one year after having only $200 to his name), Griffin had a bankroll of just under $1 million dollars, and was playing with the likes of Tom "durrrr" Dwan, Phil "OMGClayAiken" Galfond and Di "Urindanger" Dang.
Given the high level of competition that he was playing against, you knew that it would just be a matter of time before "theASHMAN103" would suffer a soul-crushing downswing.
This downswing came in September of 2008, when Ashton "theASHMAN103" Griffin lost approximately $718k on Full Tilt Poker. From the beginning of September until the end of 2008, Griffin lost approximately $942k.
At this point, Griffin was forced to drop down and re-evaluate his game. Many thought that Griffin would never return to high-stakes action, and would end up becoming just another degenerate legend.
Not so - Griffin has bounced back strongly in 2009, due in large part to his victory in the $25k Heads-Up Championship on Full Tilt Poker. Griffin defeated David Benefield in the final round of the championship to win the first-place prize of $551,250.
Griffin is once again regularly playing in the mid to high-stakes cash games on Full Tilt Poker, and seems to be doing fairly well. He also seems to be practicing better bankroll management skills.
Live Notes:
Griffin has just one live "tournament" cash to his credit - a seventh place finish in the 2008 LAPT (Latin American Poker Tour) San Jose event for $28,956.
Griffin definitely seems to prefer live and online cash games to tournaments.
Other Notes and Info:
Once won $10,000 from "luckychewy" after agreeing to run up a "small mountain" and back in Las Vegas
Ashton's
blog on Leggo Poker can be found here.
Photo: GreasieWheels.com
Recent Articles That Mention
theASHMAN103
:
Patrik Antonius Dominating Full Tilt Poker Post-"Black Friday"
Ashton "theASHMAN103" Griffin Runs 70 Miles In 24 Hours To Win $300k
(Some) Big Names Turn Out For PCA $100k Super High Roller Event
WSOP Tournament of Champions to Air on ESPN This Tuesday, July High Stakes Update and More
July High Stakes Update: "NEKOTYAN", "riyyc225" On Top
View all Online Poker Profiles