Definition of Even Money
What is the definition of the term "even money" in poker? What does the term "even money" mean?
In poker, the term "even money" means that you are getting a 1-1 payout on your money.
For instance - let's say that you and one other player are in the pot going to the river in a $2/$4 cash game. There is $200 in the middle.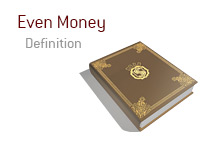 The river brings the Kh, which makes the board 8c-8h-Qh-Jd-Kh.
The other player in the hand is first to act, and he bets out $200. He has been fairly aggressive at the table, and you have made the mental note that he tends to bluff often. He has been aggressive all hand, leading out with a bet on each street.
You consider your options as you look down at A-Q. If you decide to call, it will be an "even money" proposition, as you will be risking $200 in order to win the $200 that is in the pot.
You decide to make the call and your opponent shows a pair of Sixes, and you take down the pot.
The river call was an "even money" proposition, as you won the same amount as you might have lost, had your opponent had the better hand.
--
Recent Articles That Include The Term
Even Money
:
POWERFEST Extended AGAIN, Third Galfond Challenge Begins on April 27th
Daniel Negreanu: I'd Bet $5 Million at Even Money That I Cash At Least 15 Times At This Year's WSOP
Phil Ivey Wins His 10th World Series of Poker Bracelet
Daniel Negreanu Narrowly Misses Out on Seventh World Series of Poker Bracelet
Negreanu/Ivey Bracelet Bet, Matusow in the Movies and More
Back to the -
Poker Dictionary