Definition of Pocket Aces
What does the term "pocket aces" mean in the world of poker? What is meant by "pocket aces"?
"Pocket Aces" refers to the starting hand of Ace-Ace, which, in most forms of poker, is the best starting hand possible.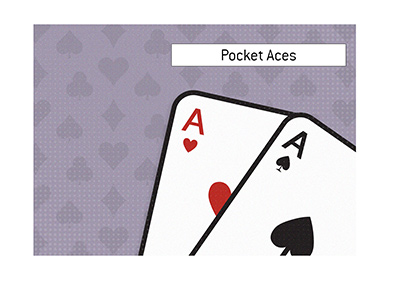 For instance, in the game of Hold'em (most people playing Texas No Limit Hold'em), pocket Aces is the best possible starting hand.
All poker players dream of "waking up" with pocket Aces, as it is the best possible starting hand.
There are 169 different possible hand combinations in Hold'em (excluding suits), and A-A is the strongest starting hand. Against nine other random hands, pocket Aces will win 30% of the time. At the opposite end of the spectrum is the worst possible starting hand, 2-7 offsuit, which will win only 4% of the time.
-
If you are dealt A-A, you will have hopefully mixed up your game until that point so that the other players at the table won't necessarily put you on pocket Aces.
Some people, labelled as "tight passive", will only wait for big hands like A-A until they get involved in a hand. The problem with being tight passive is that everybody else at the table will know when you have a big hand, and you will have a very hard time getting paid off.
The good players will mix up their game so that the other players don't realize the strength of the hand that they are playing.
--
Recent Articles That Include The Term
Pocket Aces
:
Tony G, Leon Tsoukernik Combine For $1.8 Million Pot Limit Omaha Pot
Tom Dwan Ends Phil Hellmuth's "High Stakes Duel" Winning Streak
Phil Hellmuth vs Tom "durrrr" Dwan "High Stakes Duel" Match Set For August 25th
Stoyan Madanzhiev Wins World Series of Poker Online Main Event
"James23C" Wins $1 Million Spin on partypoker
Back to the -
Poker Dictionary