Definition of Poker App
What does the term "poker app" mean in the world of poker? What is meant by a "poker app"?
All of the biggest online poker rooms - including Pokerstars, partypoker and more - will offer their mobile and tablet users the opportunity to play on their sites.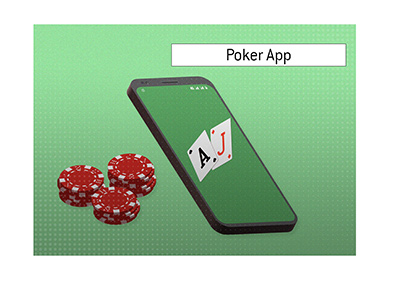 Thanks to the mobile revolution, these sites needed to invest heavily to make sure that they were able to provide fully functional versions of their gaming software for mobile and tablet users. Some sites have much better software than others, though all of the major sites offer some sort of download for mobile and tablet users.
A "poker app" is an application for your mobile device or tablet that allows you to play on your favourite online poker site.
All of the major poker rooms offer versions of their software for both Android and iOS users. In some cases, a stripped-down version of the software is offered to mobile users, though the packages are getting closer and closer to full functionality by the day, as this is what their customers are demanding.
In the past, you'd need to be planted in front of your desktop computer in order to play some online poker. Now, in this day and age, you can play poker on the go. You can play poker while taking the bus, riding in a plane or lying in your bed.
Whether you are accessing the sites through an iPhone, Galaxy or iPad, your favourite online poker site will almost certainly offer you a download so that you can play on your device.
-
In short - a "poker app" is an app that you can use to play on your favourite online poker site.
In the future, the vast majority of online poker customers will play through a mobile or tablet device, though most still currently play on their desktops at home.
Some of the most popular devices that people use to connect to online poker rooms include:
iPhone
iPad
Google Pixel
Samsung Galaxy
Motorola Moto
Nokia
--
Recent Articles That Include The Term
Poker App
:
Phil Ivey Goes Wild at Triton Poker Cyprus, SHRS Europe
Daniel "Jungleman" Cates Responds to Cheating Allegations
World Series of Poker and Tencent Sign Deal To Bring WSOP To Asia
"Ivey League" Site Set To Shut Down
Oops! No Real Money Poker for Full Tilt Poker's New Jersey Residents - Yet
Back to the -
Poker Dictionary