Definition of Short-Handed
What does the term short-handed mean in poker? What is the definition of the term short-handed?
The term "short-handed" refers to when there are just a couple of players in a game.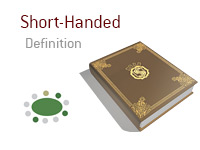 Example
It is 3 am and you are at the local casino. You have been sitting in a $5/$10 game all night long.
The game, which was full (and had a waiting list) 4-5 hours ago, has now dwindled down to just 3 players (including yourself). There are spots for ten players in this game, but only three seats are being filled.
This is a "short-handed" game, as there are just a couple of players participating, and there are plenty of open seats.
Example #2
You log in to Full Tilt Poker and sit down at a 9-handed $5/$10 PLO table. There are just two other players in the game. You have just sat down at a "short-handed" Pot Limit Omaha table.
--
The advantage of playing at a short-handed table? There are a couple:
1) You will be dealt many more hands over the course of an hour.
2) You will have more opportunities to play against a "bad" player.
--
Recent Articles That Include The Term
Short-Handed
:
2021 SCOOP Schedule Released
Wynn Poker Room Set To Reopen on September 30th
Full Tilt Poker Traffic Continues To Trend Lower
Full Tilt Poker Makes Major Changes
Jeff Madsen Wins The Fourth World Series of Poker Bracelet of His Career
Back to the -
Poker Dictionary