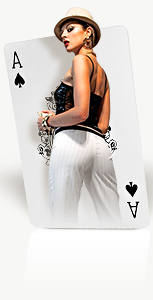 Miscellaneous King Articles



This section contains: personal thoughts from the King, opinion articles from the King, as well as strategy and opinion articles from a number of friends of the Poker King. There are also some Video Poker articles contained in this section - before becoming the Poker King, we were the Video Poker King.

Back to Archive


Borgata Winter Poker Event Cancelled Over Fake Chip Scandal

On Friday morning, tournament officials at the Borgata Winter Poker Open announced that Event #1 ($560 Big Stack No Limit Hold'em Re-Entry $2 Million Guarantee) of the series ...

--

Online Gaming Officially Launches in New Jersey

Earlier today, New Jersey officially become the 3rd state (Nevada, Delaware the two others) to offer legal online gaming.

The five day "soft launch" period cam...

--

Pokerstars: 2012's Biggest Winner

Remember the days following "Black Friday"?

Remember the poker rooms who were openly gloating about the severe trouble that Pokerstars and Full Tilt had found t...

--

The Poker Story Of The Year

There were some big stories in the poker world in 2009, including:

"Isildur1" seemingly coming out of nowhere to set the high stakes games ablaze on Full Tilt P...

--

R.I.P. Electronic Poker Tables

Pokertek Inc. announced earlier this week that it would be pulling all 12 of its "PokerPro" tables from The Excalibur Hotel and Casino.

The reason? MGM Mirage,...

--

Poker King Year-End Awards for 2008

The last major poker tournament of the year is now in the books, so we thought that now would be a perfect time to unveil our 2008 year-end awards. Who are we to be giving out...

--

Friday Night News and Notes - August 1st Edition

This is an incredibly slow time for poker-related news. The World Series of Poker main event has been paused for a few months, and many top players are choosing to stay far aw...

--

Poker King News Update: EPT San Remo, "Jennicide", "Ziigmund" and More

If you are wondering why our post frequency is down slightly as of late, there is a good reason why. There isn't much happening in the world of poker right now. There are no b...

--

Where Did They Go? Why Your Favorite Online Poker Player Disappeared

You followed them on an almost daily basis. Everytime they went deep in a tournament, you tried your best to make sure that you were on the rail. They seemingly had the world ...

--

Poker and Investing: Making Your Money Work for You Away from the Poker Table

Many successful online poker players are young, maybe in their late teens and early 20's, and inexperienced when it comes to handling money.

Most poker players...

--

Poker King News and Notes for February 2nd, 2008

We've been traveling over the past couple of days and haven't had too much of a chance to update the site. Here is a quick update on all of the news and notes from the past co...

--

What was the Biggest Poker Story of 2007?

2007 was an extremely eventful year. We had the continuing fallout from the UIGEA, which was added to the SAFE Port Act and passed in the latter part of 2006. We had new alleg...

--

What Was the Most Impressive Poker Tournament Accomplishment of 2007?

Here is a list of ten impressive tournament accomplishments in 2007. This is by no means a complete list, just something to start the debate.

Which feat impres...

--

Which Young Tournament Poker Superstar Had the Best 2007?

If you had to choose one poker player under the age of 30 that had the best year in 2007, who would it be? If you had to take into account both live tournament success and onl...

--

Are Lifetime Bans From Online Poker Sites Excessive for First Offenders?

The entire Sorel Mizzi situation recently has sparked an interesting debate online: was his punishment too excessive? He clearly broke the rules, as did Chris "BluffMagCV" Vau...

--

Could We Get Some Positive Poker News for Once Please?

Over the past 20 months or so, the news flow for online poker has been almost completely negative. If it's not the government interfering with our game, it's some of the best ...

--

Online Poker Rooms Need to Drastically Change the Way that they Deal with Cheaters

Online poker rooms need to realize that there just isn't enough currently done to deter people from cheating. We are living in a very materialistic society where money is ever...

--

Poker News and Gossip - The Thanksgiving Edition

First off, Happy Thanksgiving to all of our American readers. We hope that you have a great day filled with football, turkey and plenty of poker playing.

Anywa...

--

Poker Player Net Worths Are Rarely What you Think They Are

A pretty popular message board topic is to speculate as to the net worth of the most famous poker players in the world, both online and "live."

While it can be...

--

Poker Bots Are Everywhere: Do you Care?

If you are playing certain low level limits on certain sites, then there is a good chance that there is at least one poker bot sitting at your table.

To take i...

--

Poker King News and Notes

After a few days off, we are back from our mini-vacation. When we left, it seemed as though things were finally settling down regarding Absolute Poker, and that maybe the focu...

--

The Top 10 Most Notable Poker Tournaments of All Time

If you were to make a list of the most important and notable poker tournaments of all time, how would it look? Which tournaments had the biggest impact on the game as we know ...

--

Again, Why Do Poker Sites Protect the Privacy of Cheaters?

We wrote an article about this a few months back, but it bothers me so much, I'm writing another one.

Why do poker sites insist on protecting the privacy of pe...

--

Who is the Best Heads-Up Poker Player Online?

If you were to stake one poker player in heads-up action online, who would it be?

Who is currently the most talented heads-up player online in your opinion? Wh...

--

If You Could Become a Professional Poker Player Tomorrow, Would You?

Most of the people that read this site probably fall into the category of occasionally playing poker while holding down a full-time job or going to school. Compared to the ove...

--

Is There a Double Standard When It Comes to Having More Than One Account at a Poker Room?

I was reading Brian "sbrugby" Townsend's blog the other day and a passage jumped out at me. Townsend is currently in the process of rebuilding his confidence after a big downs...

--

The Perfect Poker Business

Your phone rings. It's late. You've been battling through the Sunday Million for hours and hours now. You are numb, as you are now 26 people away from taking down the biggest ...

--

11 Ways that Young Poker Players Can Keep Their Heads on Straight

There are lots of hidden downsides to being a successful online (or live) poker player. These are downsides that you would never even consider. These downsides might include l...

--

David Benyamine: The Rise and Fall of an Online Poker Hero

When you play high stakes poker against some of the best players in the world, you need to prepare yourself for some pretty major variance.

David Benyamine is ...

--

Why Jerry Yang Is Indeed the Worst Case Scenario for Online Poker Rooms

There is no mistaking it; online poker rooms derive a huge percentage of their new players from televised poker tournaments, especially the World Series of Poker on ESPN. Thin...

--

Poker Players are the New Rock Stars

Back in the 80's, even teenage boy wanted to be David Lee Roth. The money, the girls, the cool life, the fancy car, the expensive jewelry, the television time. In the year 200...

--

What If They Weren't Professional Poker Players?

You ever wondered what your favorite professional poker player would be doing with themselves if they didn't play poker? What profession they would have? We've compiled a list...

--

The Dark Underside of the World of Professional Poker Players

I've been out in Vegas since the beginning of the World Series of Poker. I haven't played in any events, nor did I want to; I was there to work, to mingle, to do some intervie...

--

An Interview with a "Live Poker Pro"

As some of you may or may not know, we are down in Vegas right now for the World Series of Poker.



--

Poker News, Rumors and Gossip for May 25th, 2007

-Mike Matusow has been running hot as of late (yes, that Mike Matusow) especially at some of the live cash game tables in Vegas



--

It's Official: Live Poker "Pros" Are Overrated

Remember all those people that said "Online poker pros may be good, but they'll never be able to compete with live poker pros?" Remember those people who thought that the like...

--

Who is the Richest Poker Player Under 30?

The question up for debate here is: who is the richest poker player, under the age of 30, who acquired most or all of their wealth from poker?

You might to temp...

--

Who are the Better Poker Players? Cash Game Pros or Tournament Pros?

When I am trolling the message boards, reading up on the latest happenings in the world of poker, I always come across this particular argument: who are the better all-around ...

--

The Five Steps That Full Tilt Poker Can Take to Catch Pokerstars

Ever since Party Poker exited the US market and Ultimatebet faded into oblivion, there has been no doubt as to who the big two are in the online poker market: Full Tilt Poker ...

--

How to Prevent Your Online Poker Account From Being Hacked

It is a problem that seems to be intensifying; players having their online poker accounts hacked into, and funds transferred out of their accounts. It has happened recently to...

--

The 7 Steps to Take When you Are Addicted to Online Poker

It would be pretty easy to get addicted to online poker. You log in to a site like Pokerstars and watch some of the 25/50 No Limit Hold'em cash games, and marvel at how some 2...

--

The Top 10 Reasons Why So Many Big-Name Professional Poker Players Are Broke

You read about a big-name professional poker player winning a million dollar first prize in a poker tournament, and you figure that they are set, and living the high life. Som...

--

How Actionjeff Won the Sunday Millions And Forced Poker Stars to Change Their Terms and Conditions

If you follow the world of online poker fairly closely, you probably read this article and said "Wait, Actionjeff hasn't won the Sunday Millions on Pokerstars!" In actuality, ...

--

Elky Bubbles WSOP Satellite: Hand Analysis

Much has been made over this hand, and it has actually been the subject of much discussion on the poker forums.



--

A Perfect Example of When You Must Fold AA Preflop

There are some people that would tell you that you should NEVER fold AA preflop. For the most part, I would agree, however there is one situation where AA should always be fol...

--

Patrik Antonius: It's His World, We're Just Living in It

How about this for a life scenario. You are a multi-millionaire, young, have supermodel good looks, legions of fans and travel the world playing a game that you love. Envious ...

--

Developing Into a Winning Poker Player

There are several things that distinguish the truly great players from everyone else online. These would be:

1) Ability to read other players.

2)...

--

Annette_15: What Makes Her So Good?

In case you have been living under a rock, Annette_15 is one of the hottest players around right now. Load up PokerStars or Ultimatebet or pretty much any other room, and you ...

--

Zeejustin: The Kid Can Play

Zeejustin. Say that name and you are bound to get a multitude of different responses. Basically, it boils down to two groups. Those who think that Zeejustin is a talented and ...

--

Playing Smart Video Poker

These days, Video Poker is incredibly popular for many reasons. First, it combines the fun of playing a Slot machines (still the most popular online casino game type) and Poke...

--

Note to Online Poker Players: Work on Your Live Game

After watching the first few days of the main event from the rail this year, it has become painfully obvious to me that online players really need to learn how to properly pla...

--

Video Poker King Introduction

On the surface, it would seem like Video Poker is a combination of Poker and a Slot machine. And this is partially true. However, Video Poker is actually quite a bit more comp...

--

How to Play Video Poker

How to Play Video Poker

A Video Poker machine will look somewhat similar to a traditional Slot machine in the way it is built. But that is pretty much where the...

--

PokerChamps Review

PokerChamps

Well, i have been playing, almost exclusively at Pokerchamps for almost a week now, and here are my take on things at this site.

The ...

--

Beating Pot Limit Omaha: See Plenty of Flops

This is the first in a series of articles on Pot Limit Omaha, which in my opinion is by far the most profitable game to play online. Most people don't understand the mathemati...

--

Poker Stars Deal-Making in Tournaments: Good or Bad?

Poker Stars is well known for its deal making at the end of major tournaments. Often, when a big tournament gets down to 3-5 people, a deal will be made. Let's say first place...

--

In Short-Handed Play, Aggressiveness Reigns Supreme

Have you ever sat down at a 6 max game on Party Poker and just been absolutely rolled? Have you ever made your way into a heads up hold'em game and wondered how you lost your ...

--

Party Poker IPO: A Sound Investment?

It appears, barring any last minute regulatory snags, that Party Poker (PartyGaming) is set to go public within the next month on the London Stock exchange. Party Poker, upon ...

--

Dominating Heads Up SNG's

There are two things that can give you a huge advantage in heads up SNG's.

1) Most people don't play heads up SNG's, and just play a couple to try them out (low...

--

Playing your First Live Game

So you've played online for a while, and you've done so quite successfully. You are travelling to Vegas in a week, and you want to try your hand at a real live poker game.

--

Go on. BE AGGRESSIVE! It pays off.

I must tell you that the more I play and watch the ladies playing poker out there, the more impressed I am with the new batch of female players. When Annie Duke flipped over o...

--

Put Me in the Game Guys

Like so many people out there, I have a Poker passion. Itís mentally stimulating, a cool form of chess. Iíve loved it since my Uncle Al taught me the difference between 5-card...

--

Poker Bots: How Bad of a Problem are they?

Recently MSNBC (link provided at the bottom of this article) had a story regarding poker bots, and how they are "infiltrating" online poker games.

After this a...

--

Letters to the King: SNG's Explained and More

If you have a question for the King, please click the contribute link on the left to send your question directly to the King.

Q: King, Could you explain what a...

--

Chip Leader to Bust

I can't say enough about my experience at the WSOP, It was incredible. A week before the main event I played my last $50.00 single table satellite to get in to the Super Satel...

--

It's Official: Online Poker Players are for Real

After Chris Moneymaker won the 2003 World Series of Poker, there were a lot of people grumbling about how he was a "fluke" and didn't deserve to win the title. Quite a few peo...

--

Barry Greenstein Profile -- Intelligence Meets Generosity

You may have heard of Barry Greenstein for the first time this year, as we recently won the 2004 World Poker Open (World Poker Tour event). Barry has a fascinating story that ...

--

Becoming a Winner in Online SNG's

Most people, when they start playing poker online at places such as Party Poker, follow this natural progression. First, they play for play money. Then naturally, when they re...

--

Paul Phillips - Poker King Bio

Paul is one of our favorite poker players here at the Poker King. He is an incredibly smart poker player, and likes to speak his mind without coming off as sounding like a whi...

--

Chip Jett: 2003 Poker King Player of the Year

With the final major tournament of 2003 now in the books, Poker-King.com has named Chip Jett the Poker King of 2003.

Other players had very strong years as wel...

--

Poker King Launches New Message Board

After hundreds upon hundreds of comments were posted for our articles, it became apparent to us that we needed to expand our community. So, the Poker King now has its own mess...

--

Phil Ivey: Poker's Next Big Name

Johnny Chan. Stu Ungar. Phil Ivey?

Phil Ivey is quickly making a name for himself as one of the top poker players in the world. Often referred to as the "Tiger ...

--

Phil Hellmuth: The "Bad Boy" of Poker

You may have seen him on ESPN's broadcast of the World Series of Poker, or at least heard about him. He's Phil Hellmuth, the cocky and arrogant poker player who backs up his t...

--

The Poker King's Mailbag for Sept 15, 2003 -- WSOP 2004 and Two Hold'em Questions

Q. Poker King, I'm interested in playing in the World Series of Poker next year. Do you have any details about the tournament yet?

A. Keep an eye on Binions.com...

--

Poker Tells: Cheating or Not?

What is it? It's basically when a player gives up some non-verbal
information that could be used by another player to determine what
kind of hand the player has....

--

No Limit Texas Hold'em: The Cadillac of Poker

Ask any poker player, and they'll tell you that the grand-daddy of all poker games is No Limit Texas Hold'em. Although there are many different types of poker played at the Wo...

--

World Poker Tour: A Review

You may have been watching the Travel Channel recently and noticed that they have been airing a show called the "World Poker Tour" every Wednesday at 9 pm. With Chris Moneymak...

--

Playing Poker Online: Is it for Real?

Interest in playing poker online has picked up tremendously in the past week. Why?

At the World Series of Poker that ended just last week, Chris Moneymaker won...

--

Free Video Poker Games: A Review

You may have been surfing around our site and noticed the two free video poker games that we offer: Jacks or Better Poker and Joking Apart. Why do we offer these games? Our go...

--

Video Poker Tips

Here is a list, in no particular order, of various video poker tips that we have put together after years of playing video poker. This list is incomplete, and we will be addin...

--

Jacks or Better Poker: Article #1 in our How to Play Series

Jacks or Better .. you talk to video poker lovers, and more often than not, this is their favorite version of video poker.

The premise of the game is simple: i...

--

How to Improve Your Performance

Due to popular demand, we are writing an article on how to improve your video poker performance. The four pillars to being a successful video poker player are: patience, knowl...

--

Progressive Betting?

You've just lost 4 hands in a row while playing video poker. Do you increase the size of your bets, thinking that a winning hand is sure to come soon, or do you decrease the s...

--

Bob Dancer: How I Became A Millionaire Playing Video Poker

When you think about millionaires, you probably think of real estate, the stock market, and inheritances. You probably don't think that someone can become a millionaire from p...

--

The History of Online Video Poker

Poker has been around since the 1830's, and video poker machines have been around since the 1970's. But when did online video poker get its start?

Online casin...

--

Playing Online vs. Playing in Vegas: Which has the better odds?

If you are in the need of some entertainment, then travelling to Las Vegas is probably a good idea. But if you are interested in making money gambling, you need to optimize yo...

--

Advantages of Playing Online

Have you been visiting some of the online casino sites recently, wondering if you should take the plunge and play for real?
Here is our list of the advantages of playi...

--






| | | |
| --- | --- | --- |
| | TOP POKER ROOM REVIEWS & BONUSES | |