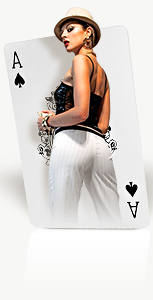 Players In The News



Phil Ivey. Tom Dwan. Phil Hellmuth. Daniel Negreanu. These are just some of the names that we will keep an eye on in this section. The fact is, poker players are treated with the same reverence as rock stars in this day and age, so everything that they do is news-worthy. We'll do our best to stay on top of things in this section.

Back to Archive


Phil Ivey Loses Court Case Against Genting Casinos UK

Bad news for Phil Ivey today as he has lost his court case against Genting Casinos UK, which is the owner of Crockfords.

In the summer of 2012, Ivey won 7.7 mi...

--

Chad Brown Passes Away

Chad Brown passed away earlier this morning following a lengthy battle with cancer. He was 52 years old.

Vanessa Rousso posted this to her Twitter account earl...

--

"Team Ivey" Continues To Expand, Chris Moorman Wins FTOPS Event and More

1. "Team Ivey" Continues To Expand.

IveyPoker.com continues to expand their roster of talent on an almost daily basis.

"Team Ivey", which is th...

--

Jerry Buss Passes Away

Jerry Buss, owner of the Los Angeles Lakers and long-time poker player, passed away earlier today at Cedars-Sinai Medical Center in Los Angeles. He was 80 years of age.
...

--

Ivey Wins on Full Tilt Poker, Sebok Resurfaces and More

1. Phil Ivey Wins on Full Tilt Poker.

Phil Ivey is no longer a sponsored pro on Full Tilt Poker, but that hasn't stopped him from continuing to play on the sit...

--

"Isildur1" Returns to Pokerstars

Earlier today, Viktor "Isildur1" Blom returned to Pokerstars after a lengthy absence.

Prior to today, Blom was last seen playing on Pokerstars in the first hal...

--

Jonathan Duhamel Joins Team Pokerstars Pro

Pokerstars announced earlier today that Jonathan Duhamel is now the newest member of "Team Pokerstars Pro".

The 23 year-old Duhamel, who was born in Bouchervil...

--

Tom Dwan Looks For His First World Series of Poker Bracelet, Men Nguyen Wins His Seventh

Tom Dwan has accomplished a great deal over his short career as a professional poker player.

Millions of dollars in cash game winnings. A lucrative spot on "Te...

--

Doyle Brunson, Amarillo Slim, Aussie Millions Update and More

This has been an eventful week in the poker world.

There are multiple topics to cover - here you go:

1. Doyle Brunson. Doyle Brunson's online po...

--

Tom Dwan Issues A Million Dollar Challenge To His Competition

Earlier today, Bluff Magazine (link below) released an article titled "Tom Dwan Issues the Million Dollar Challenge".

The article included this statement from ...

--

Dave Cain Breaks Poker Endurance Record

Dave Cain has landed himself in the Guinness Book of World Records by breaking the all-time poker endurance record.

The previous record was held by Larry Olmste...

--

Mats Sundin Signs with Pokerstars

It's not the contract announcement that many hockey fans were expecting from Mats Sundin. Instead of signing with the Canucks or the Maple Leafs or the Islanders, the 37 year-...

--

Dave Cain Will Attempt to Break Poker Endurance Record in September

Starting September 14th, Dave Cain will be attempting to break the world record for longest-ever poker session.

The official (according to Guinness World Record...

--

"Andy McLeod" Makes His Triumphant Return to the Online Poker World

In 2007, "Andy McLeod" on Pokerstars (aka "TheFatFISH" on Full Tilt Poker) was steadily moving up the rankings of the top online poker players. He was an extremely tough playe...

--

Eric "Rizen" Lynch Pulls Out of His Deal with Ultimatebet

Eric "Rizen" Lynch recently announced on his blog that he had resigned from Ultimatebet and would no longer be playing on their site, or promoting their brand.

...

--

Cliff "JohnnyBax" Josephy Signs On To Become an Ultimatebet Pro

Cliff "JohnnyBax" Josephy has inked a deal with Ultimatebet.com to become an "UltimateBet Pro", joining the likes of Shawn Rice, Scott Ian, Gary "Debo34" DeBernardi and Mark "...

--

Brandi Hawbaker Takes Her Own Life

Brandi Hawbaker, aka Brandi Rose, aka Naami Dea, took her own life this past weekend according to numerous different sources. She was just 26 years old at the time of her deat...

--

Antonius and "Ziigmund" vs "LarsLuzak" and "KObyTAPOUT"?

According to the personal blog of Patrik Antonius, there will be a team "heads-up" battle taking place between four of the best Finnish players in the world. Patrik Antonius, ...

--

Is a Tom "durrrr" Dwan vs Phil Hellmuth Jr. Heads-Up Battle On the Horizon?

In case you weren't following the recent news in the poker world, Phil Hellmuth Jr. had a really poor run over the last few days. First, after making the final table of the L....

--

Can Phil Ivey Finally Break Through and Win a World Poker Tour Title?

Day 4 of the L.A. Poker Classic has just wrapped up. Eighteen players are currently left in the field, including the likes of Phil Hellmuth Jr. and Jennifer Tilly.

--

"Seda1" Revealed?

It appears as though there is a good chance that the identity of "seda1" has finally been revealed.

"seda1" has engaged in some high stakes No Limit Hold'em ba...

--

Betfair Signs Sorel "Imper1um" Mizzi To Sponsorship Deal

Betfair announced today that they had signed another piece of their "New World Order in Poker" by inking Sorel "Imper1um" Mizzi to a sponsorship deal. Betfair now has two of p...

--

Men "The Master" Nguyen Off to a Torrid Start in 2008

You can say what you want about Men "The Master" Nguyen (and most of it probably won't be very nice), but you can't deny the fact that he is off to an absolutely blistering st...

--

Ed "Bluescouse" Hollis - Diary of a True Poker Degenerate

Reading Ed's blog is like witnessing a nine car pile-up on the freeway with multiple fatalities. You don't want to look, but you end up looking anyways.

For th...

--

Eric "Rizen" Lynch: One of Poker's Classiest Players

In my opinion, Eric "Rizen" Lynch is one of poker's classiest and most likable players. He handles himself well at the tables and is also a family man, making sure that he dev...

--

Who is "smarx" on Full Tilt Poker?

Every so often, a player by the name of "smarx" on Full Tilt Poker pops up and seemingly cleans house.

He has done this again today on Full Tilt Poker during a ...

--

David Benyamine Returns to Full Tilt Poker

Railbirds everywhere tonight rejoiced at the sight of David Benyamine making his return to Full Tilt Poker.

Benyamine announced that he was quitting Full Tilt ...

--

Sorel "Zangbezan24" Mizzi Takes Down Another High Stakes Showdown on Pokerstars; Full Tilt Poker Signs Scott Fischman to Deal

Sorel "Zangbezan24" Mizzi took down yet another High Stakes Showdown on Pokerstars Sunday afternoon, besting "Dariominieri" to take down the $25k first prize. Other competitor...

--

Is Phil Hellmuth the Worst "Chinese Poker" Player Ever?

No matter what anyone says, Phil Hellmuth is without a doubt one of the best No Limit Hold'em tournament players ever. Sure he has an abrasive personality that turns a lot of ...

--

Chip Reese Passes Away

Reports are circulating this morning that Chip Reese was admitted to a Las Vegas area hospital last night with symptoms of pneumonia, and died in his sleep. Reese was 56 years...

--

Niki "Kaibuxxe" Jedlicka Blows Out His Online Bankroll

Poker players are usually pretty superstitious, and you can almost bet that Niki "Kaibuxxe" Jedlicka is really regretting his decision to sign on to Full Tilt Poker as a "Full...

--

Who is "KObyTAPOUT" On Full Tilt Poker?

"KObyTAPOUT" has been raising some hell in the high limit Pot Limit Omaha games on Full Tilt Poker lately, bludgeoning his opponents with ease and putting an especially bad hu...

--

Jeff "Actionjeff" Garza to Quit Pokerstars?

For those of you who don't know, Jeff "Actionjeff" Garza recently started up his blog again, which is located at www.jeffgarza.com. He used to post infrequently to this blog, ...

--

Howard Lederer to Jimmy "Gobboboy" Fricke: "He's a Freak"

You can file this one under the category of "oops!"

Jimmy Fricke posted a humorous email exchange in the Beats, Brags and Variance section of the 2+2 message bo...

--

Full Tilt Poker Signs Scott "BigRiskky" Clements and Jon "FieryJustice" Little to Sponsorship Deals

Full Tilt Poker continues to sign some of the brightest young poker talent to sponsorship deals, this time inking Jon "Fieryjustice" Little and Scott "BigRiskky" Clements to d...

--

Kofi "redsoxsox" Farkye vs Jeff "Actionjeff" Garza at the North American Poker Championship

One of the more interesting stories to come out of the North American Poker Championship was Kofi "redsoxsox" Farkye and "Actionjeff" Garza squaring off at the final table of ...

--

The Phil Ivey Challenge

By now, you have probably heard about the Chris Ferguson bankroll challenge, where he attempted to turn $0 into $10,000 playing online using strict bankroll management (he eve...

--

Full Tilt Poker Continues to Stack Their Roster with Talent, Adds Kaibuxxe to their Team

Full Tilt Poker has added yet another poker phenom to their roster, signing Nikolaus "Kaibuxxe" Jedlicka to a deal.

Jedlicka has burst onto the scene in the pa...

--

Full Tilt Poker Adds Some Young Superstars to Their Roster

A few weeks ago, we said that Full Tilt Poker had inked some of the best and brightest talent in the world of poker today to new sponsorship deals.

Full Tilt h...

--

The Million / Million Poker Club

A few days ago, somebody asked me the question: which poker players have both a million dollars in cashes online, plus a million dollars in cashes live?

A numbe...

--

Annette "Annette_15" Obrestad Signs Sponsorship Deal with Betfair

Betfair won the "Annette_15" sweepstakes, signing the young poker phenom to a sponsorship deal. Their timing couldn't be better, as Annette is currently one of the chipleaders...

--

Does Daniel Negreanu Have the Advantage over the Top Cash Game Players on Pokerstars?

Daniel Negreanu has been playing some high stakes cash games on Pokerstars in the past few weeks, and so far, he isn't impressed.

Negreanu, though his chat on ...

--

Who is CryMeaRiver8 on Full Tilt Poker?

CryMeaRiver8 has burst onto the scene on Full Tilt Poker, seemingly coming out of nowhere to dominate some of the nosebleed games on the site.

This has led man...

--

Why Does Jean-Robert Bellande Have the Worst Posted Odds to Win Survivor?

I must say that I was a bit surprised to see the odds for the upcoming Survivor (Survivor China) that Jean-Robert Bellande is participating in.

Of all the peop...

--

Hallinggol is Still Alive

Wow, talk about a rumor spreading out of control. I can't believe how many people e-mailed me over the past week or so, asking if Fredrik "Hallinggol" Halling had actually kil...

--

Who is the TerrorofSweden on Full Tilt Poker?

The TerrorofSweden has always been an interesting character to watch on Full Tilt Poker. He always seems to have unlimited amounts of money and he always seems to play reckles...

--

Jennifer "Jennicide" Leigh to Appear in Playboy?

March 13th, 2008 Edit - For an up to date story on Jennicide / Playboy, click here:

Shannon Elizabeth Gets Carded, Can't Play Victoria Poker Championships in Australia

Talk about embarrassing. Shannon Elizabeth, D-list celebrity and self-proclaimed "professional poker player", made the trip all the way down to Australia to participate in the...

--

Is Mike Matusow Now Out of Debt?

The final cards were dealt at the Bellagio Cup III Main Event. Mike Matusow, the short stack, was all-in with a straight flush draw after the flop, against Kevin "Belowabove" ...

--

Tobey Maguire: Hollywood's Poker Shark

If you run through the list of Hollywood actors and actresses, you will get a list of players that run the gamut from really good poker players to really bad. The list of acto...

--

Matt Damon and Ben Affleck Roll into Vegas for the World Series of Poker

As I was walking through the Rio tonight, I heard a bit of a commotion. Apparently two very special seats were being reserved for later that night at the 100/200 No Limit Hold...

--

Is Phil Hellmuth Jr. Taking His Act Too Far?

People can say that they "hate" Phil Hellmuth Jr. because of his antics at the table, but one thing can not be denied; he is extremely entertaining and certainly makes any tab...

--

Erick Lindgren Wins Sick Golfing Prop Bet

By now, you have probably heard about Erick Lindgren's golfing prop bet that he won.

A number of poker players, including the likes of Phil Ivey, Gavin Smith a...

--

The Vinny Vinh Mystery Seems to Have Been Solved

Last week, we told you about an interesting situation that had developed at the World Series of Poker, that had many people scratching their heads and some people in a panic. ...

--

Phil Hellmuth Wins a Record 11th World Series of Poker Bracelet

Maybe we need to hold off on saying that "live pros" are overmatched by the online crowd.

Phil Hellmuth Jr. gave a truly dominating performance last night in c...

--

Daniel Negreanu Signs with PokerStars

As we predicted about a month ago, Daniel Negreanu has signed on with Pokerstars.com to become one of their new spokespeople. Any players at Negreanu's current site, FullConta...

--

More on the Vinny Vinh Situation

Yesterday, we posted an article regarding the Vinny Vinh situation, and where he possibly might have disappeared to. For those of you who don't know the story, Vinny Vinh was ...

--

Where is Vinny Vinh?

The last time that anyone heard from Vinny Vinh, he was bagging up his chips after the first day of the $1000 + Rebuy No Limit Hold'em event at the World Series of Poker. Vin...

--

Steve "MrSmokey1" Billirakis Becomes Youngest World Series of Poker Winner Ever

The "online" poker pros fired the first shot at the World Series of Poker, as Steve "MrSmokey1" Billirakis became the youngest winner of a World Series of Poker bracelet, taki...

--

Elky First Pokerstars Player to Hit Supernova Elite Status

Bertrand "ElkY" Grospellier, a fixture at the tables on Pokerstars, has become the first player to reach Supernova Elite status.



--

Daniel Negreanu a Free Agent?

Online message boards are buzzing today, after Pokernews.com reported a rumor that Daniel Negreanu may be looking at signing a deal to endorse one of the major poker rooms. Th...

--

Who is Pachabel on Full Tilt Poker?

Much has been made over the possible identity of "Pachabel" on Full Tilt Poker. This person is almost definitely a well-known name pro, as they play the highest stakes on Full...

--

Johan Storakers: Profile of the Best Swedish Poker Player in the World

With apologies to people such as "Hallinggol", Johan Storakers is argubly the best Swedish poker player in the world, and has the results to back that up. Storakers is incredi...

--

Ram Vaswani Profile: Aggression Personified

Considering that Ram Vaswani is just about to enter the final table of the EPT Monte Carlo event, I thought it would be appropriate to write a short profile of the ultra-aggre...

--

J.C. Tran - Hottest Poker Player Around Right Now?

Check J.C. Tran into the hospital, cause the guy is just plain sick.

How is this for a couple month run. JC Tran comes 6th at Tunica, 2nd at the LAPC, and take...

--

GBMANTIS: JJProdigy Pupil Making It on His Own

If you have even a passing interest in the online poker world, then you have certainly heard of JJProdigy, who was the teenaged poker prodigy who was banned from many of the b...

--

The Return of Daniel Negreanu

Daniel Negreanu has finally hit back at his critics, after making the final table of the WSOP tournament circuit event in Tunica. After the year 2004, where we saw Daniel make...

--

Todd Witteles Wins 2005 WSOP Player of the Year Award

Todd Witteles, who goes by the online alias "Dan Druff", has captured the 2005 World Series of Poker player of the year award, as given out by Cardplayer.com.

...

--

Scott Fischman: WSOP Favorite Profile

Scott Fischman is definitely a strong contender to win this year's World Series of Poker final event. He already has one high finish in this year's event, finishing second in ...

--






| | | |
| --- | --- | --- |
| | TOP POKER ROOM REVIEWS & BONUSES | |